"Agama Tuhan adalah untuk cinta dan kesatuan, janganlah menjadikannya sebagai sebab permusuhan dan perselisihan..." Bahá'u'lláh
---
---
Notice
: Array to string conversion in
/home/cahayaor/public_html/components/com_banners/models/banners.php
on line
45
Notice
: Array to string conversion in
/home/cahayaor/public_html/components/com_banners/models/banners.php
on line
46
Notice
: Array to string conversion in
/home/cahayaor/public_html/components/com_banners/models/banners.php
on line
45
Notice
: Array to string conversion in
/home/cahayaor/public_html/components/com_banners/models/banners.php
on line
46
Notice
: Array to string conversion in
/home/cahayaor/public_html/components/com_banners/models/banners.php
on line
45
Notice
: Array to string conversion in
/home/cahayaor/public_html/components/com_banners/models/banners.php
on line
46
Notice
: Array to string conversion in
/home/cahayaor/public_html/components/com_banners/models/banners.php
on line
45
Notice
: Array to string conversion in
/home/cahayaor/public_html/components/com_banners/models/banners.php
on line
46
Notice
: Array to string conversion in
/home/cahayaor/public_html/components/com_banners/models/banners.php
on line
45
Notice
: Array to string conversion in
/home/cahayaor/public_html/components/com_banners/models/banners.php
on line
46
CAHAYA.org - Tangerang, Mt. Carmel Productions melalui websitenya telah memberikan layanan gratis lagu-lagu untuk pendidikan anak-anak sebagai proyek pelayanan kepada masyarakat Baha'i di seluruh dunia dengan mempromosikan penggunaan "lagu yang menginspirasi" dalam pendidikan moral dan spiritual mereka untuk anak-anak.
Mt. Carmel Productions juga menawarkan kerjasama pembuatan lagu-lagu untuk kelas anak dengan berbagai bahasa, dengan menghubungi email JLIB_HTML_CLOAKING .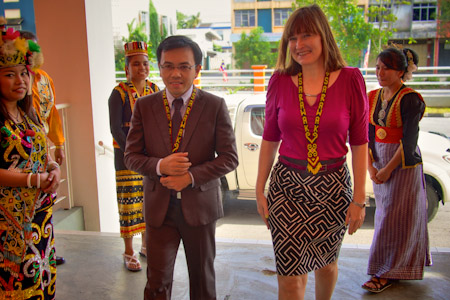 Along the banks of the Sarawak River, on the western part of the island of Borneo, lies the city of Kuching, capital of the state of Sarawak. It was there, from 14 to 16 September, that 650 youth, inspired by Bahá'u'lláh's vision for a world founded on justice and unity, gathered to consult on the ways in which they can contribute to the development of their communities.
Read more: Kuching Youth Conference Sarawak, Malaysia | 14-16 September 2013
Muda-mudi telah mulai berjuang untuk berkontribusi pada kesejahteraan komunitas mereka.
Serangkaian reuni muda-mudi diselenggarakan di beberapa negara pada tahun ini - 2013. Ada 114 reuni telah direncanakan sampai pekan terakhir oktober tahun ini, yaitu Papua Nugini, Kanada, Kosta Rika, Kolombia, dan Indonesia. ...
Read more: Menjadi Saksi Pada Reuni Muda-Mudi Indonesia Tahun Ini
Page 1 of 14
Warning
: Illegal string offset 'active' in
/home/cahayaor/public_html/templates/beez_20/html/pagination.php
on line
90
Warning
: Illegal string offset 'active' in
/home/cahayaor/public_html/templates/beez_20/html/pagination.php
on line
96
Warning
: Illegal string offset 'active' in
/home/cahayaor/public_html/templates/beez_20/html/pagination.php
on line
90
Warning
: Illegal string offset 'active' in
/home/cahayaor/public_html/templates/beez_20/html/pagination.php
on line
96
Warning
: Illegal string offset 'active' in
/home/cahayaor/public_html/templates/beez_20/html/pagination.php
on line
90
Warning
: Illegal string offset 'active' in
/home/cahayaor/public_html/templates/beez_20/html/pagination.php
on line
96
Warning
: Illegal string offset 'active' in
/home/cahayaor/public_html/templates/beez_20/html/pagination.php
on line
90
Warning
: Illegal string offset 'active' in
/home/cahayaor/public_html/templates/beez_20/html/pagination.php
on line
96
Warning
: Illegal string offset 'active' in
/home/cahayaor/public_html/templates/beez_20/html/pagination.php
on line
90
Warning
: Illegal string offset 'active' in
/home/cahayaor/public_html/templates/beez_20/html/pagination.php
on line
96
Warning
: Illegal string offset 'active' in
/home/cahayaor/public_html/templates/beez_20/html/pagination.php
on line
90
Warning
: Illegal string offset 'active' in
/home/cahayaor/public_html/templates/beez_20/html/pagination.php
on line
96
Warning
: Illegal string offset 'active' in
/home/cahayaor/public_html/templates/beez_20/html/pagination.php
on line
90
Warning
: Illegal string offset 'active' in
/home/cahayaor/public_html/templates/beez_20/html/pagination.php
on line
96
Warning
: Illegal string offset 'active' in
/home/cahayaor/public_html/templates/beez_20/html/pagination.php
on line
90
Warning
: Illegal string offset 'active' in
/home/cahayaor/public_html/templates/beez_20/html/pagination.php
on line
96
Warning
: Illegal string offset 'active' in
/home/cahayaor/public_html/templates/beez_20/html/pagination.php
on line
90
Warning
: Illegal string offset 'active' in
/home/cahayaor/public_html/templates/beez_20/html/pagination.php
on line
96
Warning
: Illegal string offset 'active' in
/home/cahayaor/public_html/templates/beez_20/html/pagination.php
on line
90
Warning
: Illegal string offset 'active' in
/home/cahayaor/public_html/templates/beez_20/html/pagination.php
on line
96